Pluto transits take a very long time, spending about 10-30 years in each zodiac sign. And so, one Pluto transit defines an entire era in history. Those born under a certain zodiac sign in Pluto make up a distinct generation. It not only defines the era that they were born in, but the changes they are bound to bring into the world once they reach adulthood.
Pluto travels in order from one zodiac sign to the next — however, due to retrograde periods, it occasionally dips back into the previous sign for a short period of time.
Click here to determine your Pluto sign! (The years I have included are only approximates. Please double-check in case you were born during a retrograde.)
For the purpose of this post, I am focusing on United States history. But many of this will still be relatable to other countries, as long as you fall into the similar timezone.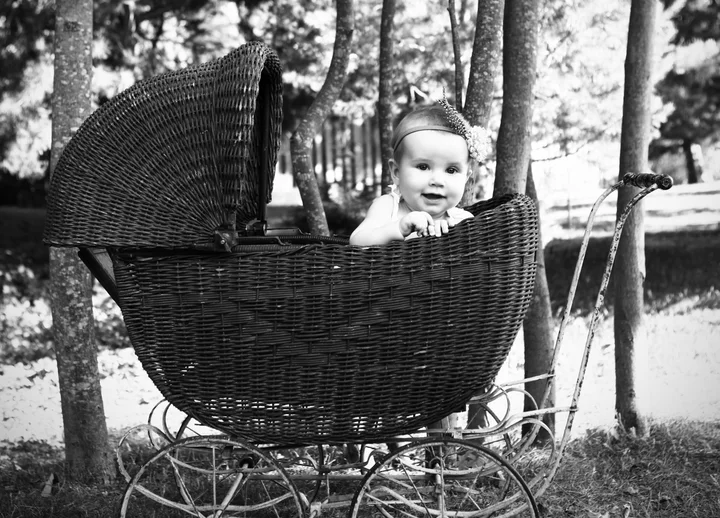 Cancer Generation (Greatest/Silent Generation)
Born approximately 1912 — 1939
Exceptions: 1912 Oct.20, 08:17 to 1913 Jul.09, 22:20 (Gemini); 1913 Dec.28, 04:23 to 1914 May 26, 20:39 (Gemini); 1937 Oct.07, 12:19 to 1937 Nov.25, 08:52 Leo; 1938 Aug.03, 17:58 to 1939 Feb.07, 12:56 Leo
The "Greatest Generation" is nicknamed for those born between 1901-1927, while the "Silent Generation" is for those born between the 1927 and 1945. The era of Cancer in Pluto marked WWI, Spanish flu pandemic, The Great Depression, and the start of WWII. This was also the former half of the Golden Age in Hollywood. Jazz, blues, swing, and gospel music was at its height. Alongside, the radio was most popular.
Sensitive and empathetic, these Cancer Plutonions grew up during a harsh time of devastating loss, and relied on cheerful and upbeat music, film, and TV to keep their spirits high. Influenced by the element of water, this generation was extremely spiritual and made religion a top priority. As they grew into adulthood and had children of their own, most would force the importance of religion on their kids.
The sign of Cancer is prone to depression — hence the Great Depression, in which materialism was pushed aside for the value and comfort of family. Also, Cancer is a very conservative sign, and this generation experienced everything on a smaller level — less babies born in this era due to war, sickness, and poverty, less money, and less overall abundance. The Cancer generation would grow up to be extremely conservative — careful with their money, prudent with their choices, and very anti-promiscuous.
Ruled by the 4th house, Cancer Plutonions place an emphasis on following the rules — clean-shaven, well-groomed, formally dressed, and properly spoken. A sense of structure is crucial to their well-being. This generation has always been prone to conformity and happily abiding to authority. These were children born in strict households, who would eventually lay down the same, firm laws for their own kids. Their urgency for control is what caused a gap between younger, more rebellious generations of the future.
This generation's desire for ordinance was helpful in some ways, in that politeness and chivalry was at an all-time high. But this also came with a massive dark side, that included sexist gender roles, racial segregation, and cultural supremacy — forbidden to marry, or even befriend, anyone outside of your religion, race, ethnicity, background, etc. While many people of this generation embraced the charitable aspect of Cancer, too many were blinded by close-mindedness. (Side note — racism goes beyond astrology — if you are racist, then you are simply a horrible person. End of story.)
Cancer represents motherhood and housekeeping, which is very fitting for how this generation would go on as adults in the 50s and 60s. These are the ultimate, stereotypical "homemakers" — stay-at-home moms who made motherhood their #1 priority in life. Surely, the Cancer generation focused on family, spirituality, and parenting above anything else.
---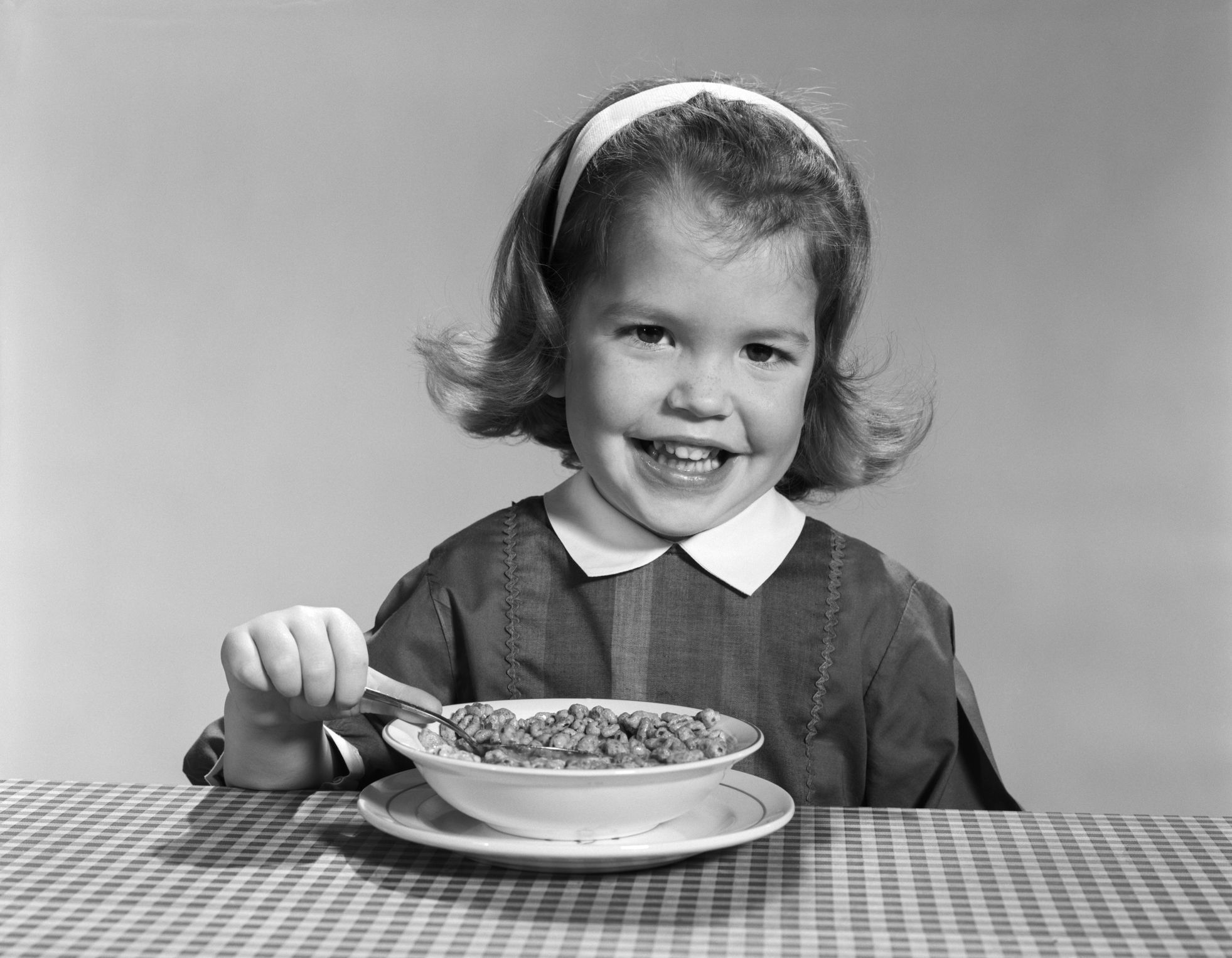 Leo Generation (Baby Boomers)
Born approximately 1939 — 1958
Exceptions: 1956 Oct.20, 06:25 to 1957 Jan.15, 02:26 Virgo, 1957 Aug.19, 04:33 to 1958 Apr.11, 14:47 Virgo
The term "Baby Boomers" generally refers to those born between 1946 to 1964. The nickname stems from the trend following the end of WWII in 1945, which lead to a BOOM of babies being born! The average family had at about five children. How fitting it is that the era of Leo, ruled by the 5th house of children, marks the time in which most kids were being born.
The era of Pluto in Leo marks the happiest time in American history. Leo represents joy, youth, and positivity. This is the time in which Americans were extremely prosperous — even lower-middle class citizens could afford several children with only one working parent. After a devastating period of poverty, sickness, and war, Americans were now thriving.
The strong divide between this generation and the prior, is the Cancer Plutonion's need for control, verses the Leo Plutonion's need for self-expression and individuality. As this generation came into adulthood in the 60s and 70s, conformity was destroyed and replaced with rebellion. These were the kids who protested the Vietnam war and spoke out against the government. They challenged gender roles as women swapped dresses for jeans and started attending college along with men. They fought the discriminatory beliefs of the prior generation, and by adulthood, would abolish racist Jim Crow laws.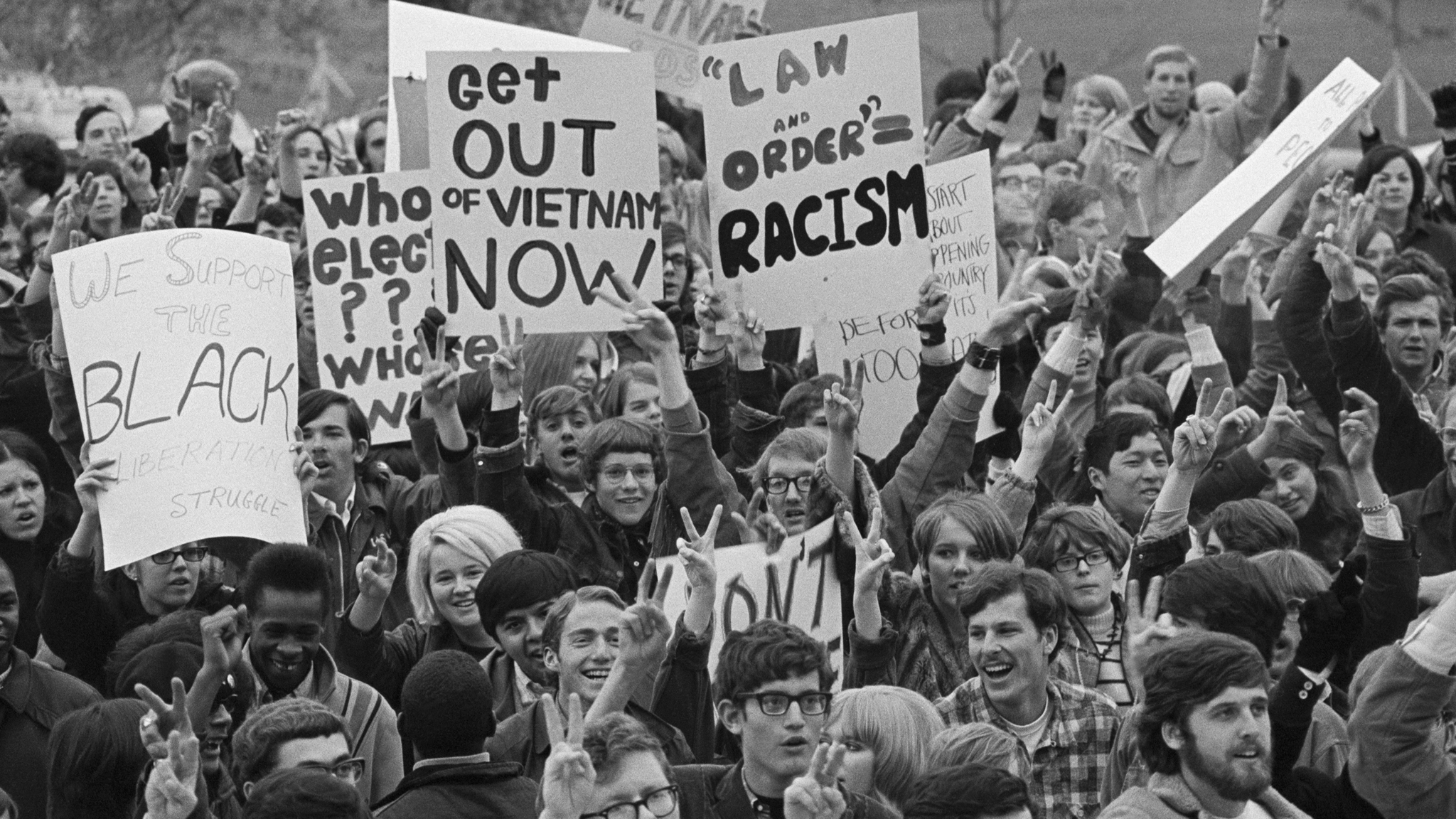 Another defining characteristic of the Leo generation is their admiration for drama. The sign of Leo is incredibly theatrical! The late 1930s gave birth to the rise of "Soap Operas" — ridiculously dramatic shows (sponsored by soap detergent companies) dealing with heavy issues such as affairs, scandals, and murder — despite how unrealistic the plot line may be. Beginning with the radio, soap operas eventually moved to daytime TV, and would thrive in the latter half of the 20th century, losing steam well before the millennium. Leo Plutonions grew up on soap operas, and remained captivated by them well into late adulthood.
The sign of Leo is attracted to all forms of creative arts, not just soap operas — this generation gave rise to the popularity of television, the latter half of Hollywood's golden age, and the birth of who would be the best musicians of all time: Bob Dylan, Jimi Hendrix, The Beatles, David Bowie, Prince, Queen, Pink Floyd, Arethra Franklin, Madonna, Michael Jackson, Stevie Wonder, Elton John, Stevie Nicks, Janis Joplin, just to name a few…
As a flamboyant and bold sign, Leo Plutonions brought a colorful splash into the fashion world and made clothing style much more groovy. Surely, as children, this generation was turned off by strict dress-codes and constricted attire that the Cancer generation imposed, and would go on as adults in the 60s, 70s, and 80s to popularize big hair, bell bottoms, tie-dye, platforms, shoulder pads, and other flashy statements.
Heavily influenced by childlike Leo, this is the generation of youth — born in a time of happiness and innocence, destined to break the rules and embrace personal freedom and creativity, who probably still feel like they never grew up!
---
Virgo Generation (Late Boomers/Early Gen-X)
Born approximately 1958 — 1971
Exceptions: 1958 Apr.11, 14:47 to 1958 Jun.10, 19:09 Leo; 1958 Jun.10, 19:09 to 1971 Oct.05, 06:31 Virgo; 1971 Oct.05, 06:31 to 1972 Apr.17, 07:27 Libra
"Generation X" is loosely defined as those born between the mid-to-late 60s to the late 70s and early 80s. I would label Virgo Plutonians as "Early Gen X's" due to the fact that Libra Plutonians are also included in the category of Gen-X. And if you were born in the late 50s to early 60s, you may consider yourself a "Late Boomer."
Virgo symbolizes "The Virgin" — which represents an independent person who is not married. The 1960s marked a time in which divorce, or choosing not to marry at all, became more frequent and socially acceptable. While it was still seen as controversial at this point it time, it took a sharp turn from the 1950's societal pressure to place extreme importance on marriage (coming from the maternal, family-oriented Cancer generation). Alongside, this is also an era in which families transformed from one working parent (father) and one homemaker (mother), to two working parents who now shared more equal responsibility in taking care of the home.
Independent Virgo brought about an era of self-sufficiency in many ways — husband and wife became more independent from one another as women joined the workforce, women in general became more independent as they earned their own money and gained more rights, children became more independent as they grew up with less supervision, and US citizens demanded more independence from their government. When Virgo Plutonians had kids of their own, they embraced a more "hands-off" parenting style, as opposed to the common helicopter parenting style of the prior generation.
The sign of Virgo relates to deep thinking, analysis, and critique. During this era, many Americans questioned their way of living by embracing the hippie subculture, migrating to other countries, or creating small communities of their own that dispelled normalcy. As Christianity had dominated the US, people were now beginning to embrace Eastern belief systems, and much of this generation would grow up to switch churches or religions. This also explains the rise of psychedelic substances (like cannabis, LSD, etc.) at this time, which promote intense introspection and self-reflection.
This was also a time of sexual liberation. And to reiterate — the symbol of "the virgin" does not imply abstaining from sex, but abstaining from marriage or partnership. It may surprise many to know that pre-marital sex has been common all throughout history, and birth control has existed since ancient times. But with the invention of modern birth control — "the pill" approved by the FDA in 1960 — sexual liberation reached a new height. Alongside, this period marks the second wave of feminism.
This generation would come into adulthood by the 1980s and 90s. The rise of punk and heavy metal can be correlated with Virgo's distaste of authority. Stepping away from the flamboyant Leo generation of disco, the critical Virgo generation preferred music with political and anti-establishment lyrics. They also popularized the movement of low-budget, indie movies — yet again another reference to the independent energy of Virgo — such as The Breakfast Club, Pulp Fiction, Dazed and Confused, etc.
The Earthy energy of this generation makes them humble, patient, and hard-working. They are quiet about their achievements and impact on the world. In contrary to the prior fiery generation, who believes that change is made by causing a fuss and sometimes resorting to violence, this generation more-so believes that if you want to see real, long-lasting change, it has to be taken one step at a time.
---
Libra Generation (Gen-X)
Born approximately 1971 — 1983
Exceptions: 1972 Apr.17, 07:27 to 1972 Jul.30, 12:05 Virgo; 1983 Nov.05, 21:41 to 1984 May 18, 13:36 Scorpio
This is the definitive period of "Generation X," or "Gen-X."
Libra represents balance, peace, and fairness. This marks the time in American history in which the hippie movement of the Virgo era fell — although it did not "go away" — rather, it blended into the rest of society and became far less dualistic. The Libra era blurred the division between mainstream and counterculture, and further integrated the two. Although some of the achievements of the hippie movement was temporarily lost, for example criminalization of psychedelic medicine and the continued destruction of our environment, many achievements in regard to the fight against sexism and racism prevailed (of course there was, and still is, a long way to go.)
As the hippie counterculture blended into the mainstream, the fight for equal rights essentially became the "new normal." Second-wave feminism was in full swing, the sexual revolution could not be stopped, homosexuality was growing in acceptance, and civil rights movement continued. Libra brings justice and righteousness. The Libra Plutonians would grow up to be far more tolerant of differences than any other generation that came before them.
Libra Plutonians desire "work-life balance" more than any other generation. They may be a little less hard-working than the Virgo Plutonians, but this is because they realize the importance of avoiding burnout, and knowing that there is more to life than work. By the time many of them reached adulthood in the 90s, earlier generations slammed them as "slackers," due to their more balanced approach to life. They were criticized as aimless, unmotivated, and overindulgent. By 2000, Libra Plutonians would quickly prove them wrong with the emergence of entrepreneurship and tech startup companies.
As Libra Plutonians value comfort and casualty, fashion style significantly changed as they emerged into adulthood in the 90s and 2000s. In contrary to the prim-and-proper style of the Cancer generation, the wildly bold style of the Leo generation, and the individualistic style of the Virgo generation, this group made fashion much more relaxed. While they still enjoy looking good, Libra Plutonians slashed strict dress-codes and attention-grabbing wardrobes for more relaxed, simplistic clothing. Oversized sweaters and tee's, baggy jeans, and flats became popular.
In terms of technology, Libra Plutonians had a very balanced experience — they grew up with video games, TV, walkmans, and the birth of computers and Internet — but they would not be swallowed in smartphones and social media like latter generations.
Ruled by the element of air, the Libra generation is highly intellectual. Many Libra Plutonians strayed away from religion and spirituality in favor of focusing on science and technology. The Virgo era marked the ban of prayer in public schools in 1962, while most of that generation grew up to stray from dogmatic religions. Moving forward into the age of Libra, many people born in this time would grow up to forgo any type of worship or theology. Much emphasis was placed on rationale and logic. American culture in particular became more secular. Alongside, tolerance for religious diversity increased.
The Libra generation comes with peaceful energy. Although there were continued wars after Vietnam in '75, the US would not experience nearly as much devastation until the Middle East invasion in 2001. Alongside, the Cold War from 1947 finally ended in 1989. I hope this generation can stress to younger generations the importance of getting along with one another, and sticking up for the underdogs.
---
Scorpio Generation (Millennials)
Born approximately 1984 — 1995
Exceptions: 1984 May 18, 13:36 to 1984 Aug.28, 05:38 Libra; 1995 Jan.17, 10:54 to 1995 Apr.21, 01:04 Sagittarius
"Generation Y" or "Gen-Y," more commonly known now as "Millennials" are considered to be born between the early 80s to the mid or late 90s. Some may define it as into the 2000s. But for the Scorpio generation, this stops after late '95. Pluto spent a very short time in this zodiac sign compared to others, making this a rare and unique generation.
Scorpio is ruled by the 8th house of sex and death. The catastrophic AIDs epidemic first hit in 1981 and would prevail throughout the 1990s. It could be said that the AIDs epidemic brought a halt to the sexual revolution happening throughout the 70s. Because of the epidemic, this era marked a time in which society became more open to talking about sex, and all the risks and precautions that come along with it, and how to practice proper safety and hygiene.
Scorpio Plutonians would grow up to be much more sex-positive. What separates them from the prior generations, who became more open to promiscuity, is the fact that they are far more willing to confront the guilt and shame behind it. This is the generation that invented the term "slut shaming" — a concept that exposes double-standards and deep-rooted judgment. Scorpio Plutonians do not want to simply carry out a sexual revolution, they want to dig deeper and figure out the root cause behind why there is so much taboo and backlash around this subject. Scorpio Plutonians were never afraid to bring up this subject to parents, teachers, or authority figures, because they are meant to start uncomfortable conversations. In their eyes, controversy is a good thing, because it is the propeller of positive change.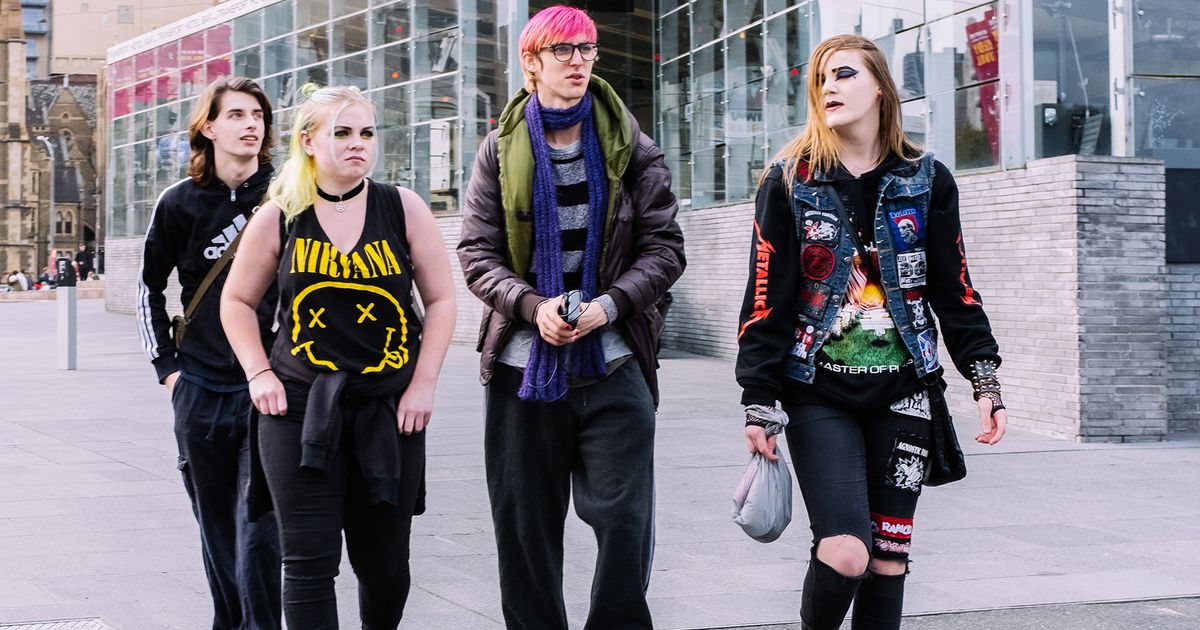 The energy of Scorpio relates to all things occult, dark, paranormal, disturbing, and taboo. Scorpio Plutonians grew up with an obsession for the Harry Potter franchise, the Twilight saga, and everything else regarding witches, vampires, and zombies. "Hot Topic" first opened in 1989 and would remain popular for teens growing up in the early 2000s — a store that embraces gothic, alternative, and controversial fashion and accessories. This generation was the rise of "emo kids" who wore black clothes, heavy eyeliner, and hairstyles that covered half of their faces. They popularized punk-rock music from angsty bands like Fall Out Boy, My Chemical Romance, Jimmy Eat World, Paramore, Taking Back Sunday, Simple Plan, etc. Upon adulthood, this generation would normalize tattoos and piercings in the workplace.
After a generally peaceful and optimistic time of the Libra era, Scorpio Plutonians watched darkness reemerge back into the world. Not only were they born during the AIDs epidemic, they also grew up with plenty more destruction. They were only children and teenagers when the NYC twin towers were attacked in 2001. After declaring war on Afghanistan, they spent their entire youth in what would be known as the longest war ever fought in history by the United States. Many had only just recently entered the workforce when The Great Recession of 2007-2009 hit. And finally, shortly after beginning their career path, or beginning a family, they were hit with 2020's Covid pandemic. The Scorpio generation is all too familiar with darkness.
While the US continues to stray from traditional religion, the Scorpio generation brought back a reemergence in spirituality that the Virgo and Libra generations let go of. This group of people brought the dark arts back into the mainstream, with the new popularity of astrology, tarot cards, and witchcraft. We are also seeing the rise of non-dogmatic religions such as Neo-paganism, Wicca, and Buddhism.
In contrary to the socially-oriented Libra generation, the Scorpio is much more seclusive. Many people of this generation are choosing not to have children, or not to get married, preferring the company of pets and plants. Of course, many are still marrying and raising kids, often in ways that challenge societal norms of the past. I think that this generation will continue to ask the tough questions, to bring the dark arts to light, to destroy this world in order to be reborn again.
---
Sagittarius Generation (Gen-Z)
Born approximately 1995 — 2008
Exceptions: 1995 Apr.21, 01:04 to 1995 Nov.10, 20:14 Scorpio; 2008 Jan.26, 03:45 to 2008 Jun.14, 03:47 Capricorn
"Generation Z" has been labelled to those born from the late 90s to the early 2010s.
The Sagittarius era marked a time of extreme expansion, most notably the internet. Sagittarius energy revolves around travel, growth, and moving forward. Tremendous forward movement happened within this timeframe — society shifted from telephones and dial-up to touchscreen smartphones, bluetooth, and Wi-Fi. People went from leaving messages on answering machines, to posting texts and videos on social media profiles.
This is the first generation of children to grow up with the internet and social media, the age of information overload. The Sag generation is more concerned with achievement and success than recent prior generations. They have a lot of ambition and big dreams. Despite sometimes being seen as cynical, this generation is actually a very optimistic and hopeful one, thanks to the passionate and determinate energy of Sagittarius. They are more eager to reach new heights and do what prior generations have never done before.
The Sagittarius generation is eager to take steps forward in terms of equal rights, such as LGBTQ+ and Black Lives Matter. Influenced by fire, they are more likely to engage in protest, speak up about injustices, and take action. While the former generation are ones to start uncomfortable conversations and reveal discomforting truths, the Sag generation is more likely to take this a step further and actually do something about it. They are not afraid to get angry or engage in confrontation with those who express hurtful opinions and beliefs. Sag Plutonians are more politically active, and prefer to engage in social media discussions about politics, rather than simply read about it from the news.
Another result of being influenced by fire is creativity, making the Sag generation very imaginative and artistic. While the earlier generations popularized social media platforms like Facebook and Twitter, the Sag generation popularized a different style of social media — like instagram and TikTok — which offer much more creative freedom through music, dancing, and graphic design.
As Sagittarius is ruled by wise Jupiter, this generation has a lot of wisdom. Sag Plutonians are far more likely to abstain from alcohol, intercourse, and other risky behaviors during teenage years and early adulthood, compared to prior generations. Among this group, teen pregnancy and youth crime significantly declined.
Sag Plutonians were in grade school when they watched the economy crash hard in 2007-2008, some of them just being born at this time. And most were still in school when Covid first struck in 2020. Thanks to the creative, determined, and open-minded energy of Sagittarius, this generation is well-equipped for handling uncertain times and navigating a new way of living. Many are using their imaginative forces to carve a new career path of their own, figuring out how to be their own bosses, facing these challenging times head-on without fear.
My predictions are that this generation could give us a much-needed reemergence of great artists — perhaps cinematographers and graphic designers with talent that's equivalent to the greatest musicians of the Leo era. Also, this generation will demand that the government becomes more hands-on and involved in the personal lives of citizens.
---
Capricorn Generation (Gen Alpha)
Born approximately 2008 — 2024
Exception: 2008 Jun.14, 03:47 to 2008 Nov.27, 02:06 Sagittarius
We are currently living in the era of Capricorn. As I write this in 2022, we are nearing the end of this era. Right now this generation is no older than teenagers, most of them not even in high school yet. The "Alpha Generation" is defined as those born from the early 2010s to the mid-2020s. They are the first generation to entirely be born in the 21st century.
Capricorn relates to work, and Pluto is about transformation — this era completely transformed the way we work. We witnessed a new breed of work — "influencers" who use social media to make a living, we saw a spike in independent businesses and people who work for themselves. The rise of technology and social media allowed many to work from home, and the pandemic completely pushed this even further. Depending how the future plays out, the workplace may never be the same — with requirement of masks, social distancing, and vaccine mandates. Ruled by Saturn, Capricorn represents restrictions, and this era may be the mark of permanent restrictions enforced at work. Even if Covid happens to disappear within a few years, most likely many people will continue to work at home, and those who work on-site will continue to take drastic measures (then again — maybe all of this will come to an end by 2025.)
This is also an era that brought about "cancel culture" — the act of ruining someone's career or reputation due to inappropriate behavior — whether it was as simple as a misunderstanding, or as detrimental as an act of violence or discrimination. Cancel culture affected both Hollywood stars and everyday people — consequences ranging from getting outcasted by jobs, or outcasted by your friends, or for celebrities, outcasted by your fans. This deeply reflects the punishment energy of Saturn. Many people were forced to be held accountable for behavior that they had gotten away with for years — some of these people were innocents, some of them abusers. It's the modern-day witch trials.
While technology continues to grow, and social media rises, and cell phones become of more importance — this era still does not compare to the growth of the Sagittarius era. At this point, technological advances become a bit more steady.
Also, Capricorn represents tradition and doing things the old way. This period marked a time of nostalgia, in contrary to the futuristic and apocalyptic-focus of the Sagittarius era. This is a time in which sepia filters, thrifting, vintage shopping on Etsy, hipster trends, etc. gained popularity. "Cottagecore," an aesthetic focused on the simple life and plain-living, such as living in the woods in a small cottage with minimal technology, became a huge trend. High-waisted clothes and dresses from the early 19th century came back into fashion. The renaissance faire and medieval cosplay became enjoyed by many. Period pieces such as Downton Abbey, Bridgerown, and Game of Thrones developed a cult following.
The Capricorn generation will grow up to be hard workers who value persistence, dedication, and discipline. Elder generations will be shocked at how smart these kids will grow up to be. It will be surprising to many that, despite this generation's short attention span generated by overuse of technology, they will still manage to have an impressive ability to focus on goals. Also, despite rising cost of universities, I still feel that many will be eager to attend college or some type of formal education. Many will go on to have very high-powered careers. I can see many of them becoming teachers and scientists. They will be incredibly frugal with their money and resources. Some will be attracted to orthodox religious studies. Influenced by Earth, these kids will grow up to be far more environmentally conscious, and make true efforts to fight Climate Change. They will popularize cooking from scratch and bringing back old family recipes. They will embrace a slow way of living — social media and internet will be important, but they will be especially mindful of "unplugging" and taking breaks to spend time in nature.
---
Generation Aquarius (Gen Beta)
Born approximately 2023 — 2044
The era of Aquarius is right around the corner — who knows what it will hold?! I can take some wild guesses. Aquarius represents hope and healing — after a rough, restrictive era of Capricorn, truly ending with a bang as we close out the era with a pandemic — I do see that hope is right around the corner. It may take a few years, but things will get better. There will be massive healing… eventually.
Aquarius also represents the future. I believe that this will be the true "Space Age," when we finally make astronomical advances that have been long overdue for centuries. We could certainly discover new planets and moons, land on Mars, and perhaps reveal contact with alien life. Another possibility is advancement of robots. There will be a heavy focus on science and possibly another technological boom, even larger than the era of Sagittarius.
The New Age movement will rise and spread a spiritual awakening. This generation will be interested in healing — most of them growing up to become doctors and nurses. We will also see many choosing alternative healing as a career path — a surge of herbalists, reiki healers, acupuncturists, hypnotherapists, etc. Much of this generation will push psychedelic medicine research.
This will be a generation of really weird kids, they will be completely misunderstood by all generations before them, and the ones after them too. They will push for change and urge society to rethink the way we live.
---
Generation Pisces (Gen Gamma)
Born approximately 2043 — 2067
This will be the time in which spiritually completely reemerges. Perhaps not organized religion, but people will feel extremely connected to the universe, people will openly meditate and pray. This should be an extremely peaceful time of little to no war. Technological progress may come to a temporary halt, perhaps after the boom of the Aquarius era. Mental health will be prioritized. Psychedelic medicine will be mainstream and easily accessible. Government secrets could be exposed. There could be some sort of significant ending or chapter closing.
Those born in this generation will be extremely gifted — psychics, mediums, gurus, spiritual leaders. Their intuitive powers will be incredibly strong. They may struggle with motivation and be prone to depression, but they will be very spiritual. They will make huge strides in defeating segregation. Gender roles may disappear. They will be the wisest generation of all time.
---